For DIY and Pro Painters Alike
Made from an exclusive multi-ply plastic impervious to paints and mineral spirits, The Painter's Pouch™ is engineered specifically for storing wet paint applicators for short or long periods of time… without the need for freezing. It will not crack or break like hard plastic brush and roller covers, and the extra-large pressure side closure seals air tight… even accommodates wet rollers still attached to the frame handle, saving more time.
The see-thru back panel allows quick identification of what's inside without opening the air tight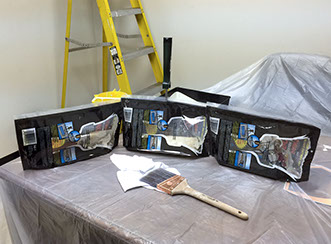 closure. Not just another plastic storage bag, this is a brush keeper on steroids!
Most importantly, the large size (7 inches x 14 inches) and unique gusseted side expand to fit all types of paint applicators including brushes and foam up to 5 inches wide, rollers and pads up to 9 inches long, and even spray tips and nozzles. No need to buy separate covers for brushes and rollers like other applicator covers now on the market. The Painter's Pouch™ fits 'em all.